Bloom, 2019
Each morning woken is an act of blossoming as she unfolds into the dew of a new day. How refreshing! With petals opened forth in the act of blissful courage, she smiles a sweet floral smile for all future endeavors, both feared or most fortunate.
Foreseen, 2019
Glamour is her armour. She's glam but she's a farmer. A cultivator of circumstance! In her hand you'll find a crystal ball that foresees all, however big or small. Ask it a q, it will hear your call!
Lover, 2019
She wears her heart on her sleeve. She is the lover of the unknown, continuously crushing on the forces of the future and the riveting uncertainty of future forks in the road. The elusive is her lover. For that she offers her whole heart, front and centre of her dress.
Audible, 2019
When she laughs it rustles the leaves in the vicinity. It shakes the tin roof, boils the water for her tea and sends her laundered clothes flapping in the wind. Such mirth has never before been found in such a woman! Her laughter is so raucous it is likely to be heard from the International Space Station!
Lady Seaflora, 2019
Lady Seaflora is a highly esteemed professor of Interior Underwater Cave Design at the Great Barrier Reef School of Art and Design. She's best known for her instruction on the feng shui of sea sponge upholstered lounge suites in relationship with coral chandelier installations. Her cave designs support the functional use of space for all inhabitants, utilising the natural gifts of the ocean to encourage sustainable practice.
Little Dolphin, 2019
Little Dolphin and Lady Wakame have a propensity for adventure. Their current interest is treasure hunting for sunken wedding rings. Using Little Dolphin's unique sonar abilities and Lady Wakame's highly developed psychic skills, they make a powerful search team!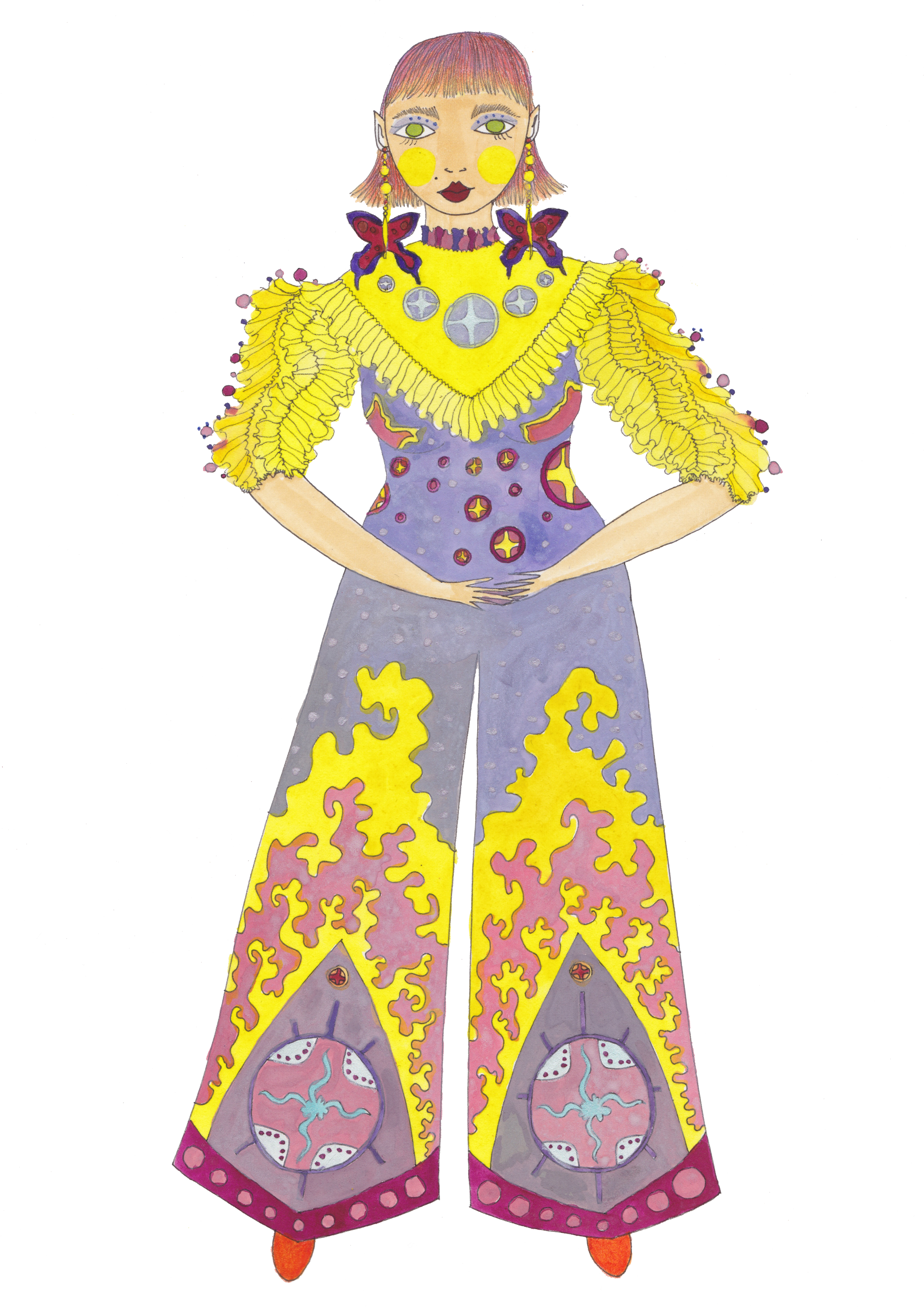 Tang on the Tongue, 2018
At a ground level, at the base of the spine, at the beginning, before the wind, a wriggling nibbling slithering feeling arose bubbles in her being. And from the tended beds of an internal garden a new kind of urgency broke the soil, a sapling of her new self with the potential for boughs of steel and roots of gold. A metallic strength, an indelible tang on the tongue.
Waiting, 2018
A lass of subtle sass curls her lip with knowing
she knows the secrets to growing
and feels the currents flowing.
The cocoons around old structures unfurl
and she and all her girls
twirl their pearls and wait.
The longest wait to date.
Dream Seemed, 2018
Of yesternight she dreamed of an incessant wind blowing over a churning sea, some sort of calamity. A radial beam of milk and cream, a hyena scream, a wall of high density, and a snake with a propensity for researching ancestry. Unusual the dream seemed, so what does it mean?
Farmgate, 2018
On a Sunday, her market basket may be found to hold pistachio jam doughnuts, poppyseed bagels, a bunch of beets, leatherwood honey by abundance, kraut by the kilo, fresh milk by the litre, foraged mushrooms and fresh fish, blueberries per punnet and herbs by the handful, how delightful!
Wrangler Woman, 2018
Imagine an unruly Renaissance woman. She does what she wants. An unwittingly witchy warrior of wisdom and skill, she warrants an honorary badge for her diligent defense of tradition. She can wrangle the most rampant of beasts, both man and animal, with a whip woven of ponytails from a well endowed head. She can hustle harvests of sweet corn with a flick of a fantastical finger. Ah, wrangler woman, a real winner of a gal!
Cosmic Couture, 2017
Now there's a canvas of cosmic colour carnage if ever you asked for one! Called down from the crescent of a waxing moon, it is a multitude of shamanic shapes signifying the spectral experience, with all expectations lost to an amalgam of enigmatic pattern pieces. It's all the universe in one dress, it's cosmic couture!
Allsort Slides, 2017
Today she's dressed in her Sunday best in edible colours of lemon merengue pudding and pink champagne sorbet with zesty socklets, all-sort slides and a bold beam of eyeshadow in essence of satsuma! What a bizarre and delectable collection of wardrobe essentials!
Fungi Flan, 2017
On days when the mist is thick, she goes forest foraging for medicinal plants. So as to maintain a fully integrated experience, she dons a gown in the theme of the day. Today she is foraging medicinal fungi of the highest calibre! She will likely hike home and add them to a forest fungi flan, topped with creamed mist and silkworm floss. How yum!
Harvest, 2017
From her garden she recently harvested the eggplant of opportunity, two pumpkins of preparedness, a zeitgeist zucchini, some non-linear thyme and the last of the rhythmic beets. She is currently cultivating her winter bed for planting seeds of change, using the composted ego-waste of last year as fertiliser.
Bilum Bag, 2017
She doesn't carry around much baggage. But the baggage she is yet to process is kept in her favourite bilum bag. In it she has a small purse of guilt, a waterbottle of worries, one trauma tampon and some fearmint chewing gum. Soon the coins will be spent, the worries drunk, the tampon composted and the gum responsibly disposed of, so she's not too bothered!
Tapestry, 2017
Her life has been a patchwork of experiences, stitched together as one colourful story. From her crowning to her crossing, she will stitch an elegant tapestry held together by the threads of work and play! She is so very proud of her tapestry that she now wears it proudly as a dress, with added ruffles and sleeves, because what's life without some extra pizzaz?
Future Home, 2017
Perhaps it's the smashed avo on toast, but she doesn't have the savings to purchase a home. For the time being she has built an internal terrace house. It has a narrow corridor of hope, a small archway of faith, a creaky stairway of long hours of work, a bedroom where she sleeps off her fear and an open fireplace where she keeps the coals of her dreams burning.
Pluto In Scorpio, 2017
She's passionate about bringing out-dated structures to rubble, enthralled by seeing the death of a vision and the new phoenix of action rise from the flames. Is there not always a better way of doing things? A more efficient way, a less harmful way? She is not part of generation 'y' bother, but why bother to cloud a generation that has vision?
Sweet Abundance, 2017
If she were to plant her own Garden of Eden, she would nurture daphne in sweet abundance, mugwort for dreams with heavenly meaning, a forest of birch trees to keep a keen eye on her and saguaro cacti as pillars of her internal strength, because all she recognises in plants, she sees in herself too.
Eternal Rose, 2017
When Cupid dropped by her apartment recently, she was unsure why he was pointing a sharp arrow at her. Why is your love painful and violent, Cupid? She insisted he put a gummy bear on the end of the arrow. When he shot her, it was such a soft and squishy prod that she fell fully in love with ­– herself! She was so head over heels that she gave herself an eternal rose of love, which never seems to die.
The Holy Kiss, 2017
She is the bridesmaid at the wedding of the realms of sleeping and waking. Two lovers brought together to create one continuous cycle, til death do they part! And she saw them kiss at a place between realms. It was a long, romantic kiss. What a magical marriage!
Country, 2016
Out back on a bush track, under the white gums, under a fierce sun, a bluetongue and a country gal walked along. The squark of a Cocky, slightly less mocking that a Kooka, shook her from a reverie about the sea, of a place less hot than her daily trot. She thinks about the sea a lot.
New Seasons, 2016
In her shopping bags she has blue corn tortillas, refried beans no added salt, Cholula hot sauce, taxed tampons regular flow, cat biscuits, okra, cilantro by the bunch, kombucha Love flavour, Turtle Trails coconut ice cream by the pint, 2 potatoes, razor refills x4, grape seed oil, honey roasted peanut butter, 7 grain sliced gf bread, bamboo and white tea dishwashing liquid and pumpkin and cinnamon Skyr.
Lady Of Spring, 2016
Bringer of buds, blossom, leaves, she comes when she feels the need. Bringer of life, growth, green, in mid September she is beginning to be seen. Bringer of fresh starts and changing skies, she is responsible for newly hatched bird cries. If you are ready for something new, this Lady Of Spring will be waiting for you!
Star Laughs, 2016
Of one thing she is sure. There is extraterrestrial life. The thought of aliens occupies much of her thought, especially at dusk, when the stars renounce their guise and appear in a dewy sky. Her eyes are called upwards towards her galactic sisters, many millennia of lifetimes reaching through the infinite heavens.
Flo, 2016
It's as if she moves as easily as the wind on a spring morning, or as easy as a Japanese bullet train, or as easy as a well practiced gymnast. Everything she does she just floats on through it, like a kayak in a calm high altitude lake. Her actions are effortless because she moves assuredly through any challenge. It's not as if she doesn't have to try, it's just that the trying comes easy.
Laur & Yolly, 2016
Laur and Yolly need an umbrolly 'cause it's been raining astrological retrograde obstacles lately. Despite the challenge they are navigating it well and things seem to be coming their way. But where does the power of the planets end and free will begin? They'll be pondering that one for a while.
No Lands, 2016
Is she...
Dutch? Spanish? Swedish? Mexican?
Nah! None of the above. She's not from here. She's from the land of spontaneity, a place without direction where there is the intention of no intention. She wasn't planned, she just happened, conceived of paper and paint, an afternoon love child!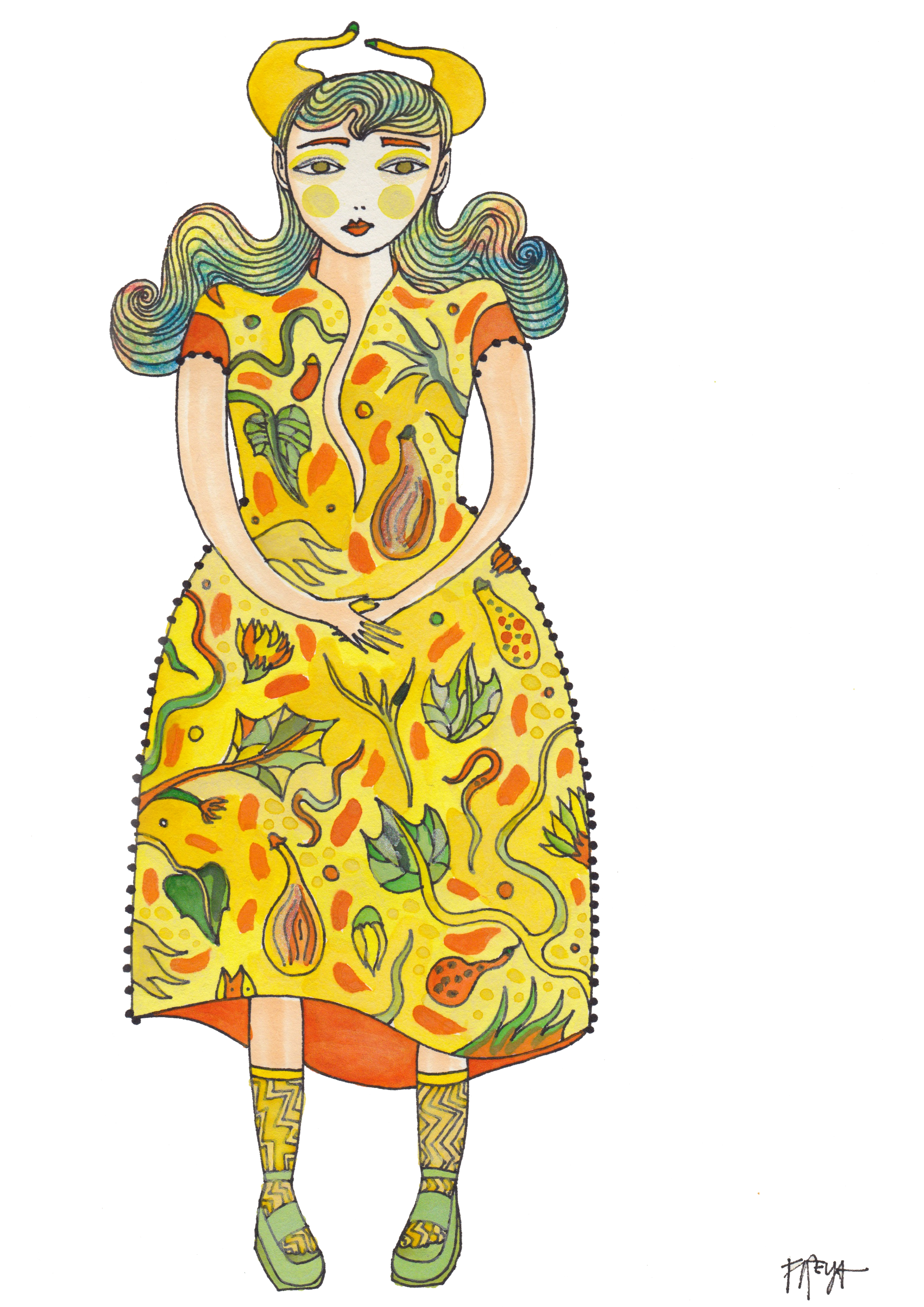 Squash Princess, 2015
Squash Princess, the guardian of sweet vegetables, tender of gardens and keeper of squashy colours, recognised by gardenfolk by her wonky squash headdress! If your summer squashes, zesty zucchinis and plump pumpkins need a babysitter, she'll be close at hand.
Feel The Love, 2015
These folk are feeling the love. Fiery rich smelling love, strong sweet love, energetic etherial particle love, dense contained intuitive love, handsome angry love, gooey melty cheese-on-toast love, eternal glorious mother love + 1 million other kinds of love. So much of it!
Delphinia, 2015
Delphinia has loved fashion for a millennia! She found this fabric when she was thriftshopping with her auntie Ariadne. Her auntie wanted to use it to reupholster her favourite armchair, but Delphinia claimed it as her own and sewed this dress! She's a skilled lass.
Passion Apple, 2014
She floats around her garden of Eden, identifying plants in a little leather notepad she fashioned from frogskin and dried bark. She makes love to the gardenfolk by kissing them while wearing lipstick made from blueberry juice. Her favourite plant that she grows is the Red Pineapple, which holds special properties that contribute to a passion for life. She keeps it safe with her at all times, and so is forever passionate!
Balance, 2014
Behold the beautiful Queen Of The Balance Of All Things. The Goddess of Equilibrium. The Naysayer of chaos, the slayer of Nonsense. She is our Libran ruler of the Zodiac. No faux pas passes under her eye without gentle scrutiny, and each of her actions are weighed upon their value of Purpose, each of her thoughts measured in their Loyalty to an ordered universe.